October is National Disability Employment Awareness Month 2019. NDEAM dates back to 1945, when Congress designated October as a time for national awareness for including people with disabilities in the labor force.
NDEAM celebrates the contributions of workers with disabilities and educates about the value of a workforce inclusive of their skills and talents. This year's theme is "The Right Talent, Right Now."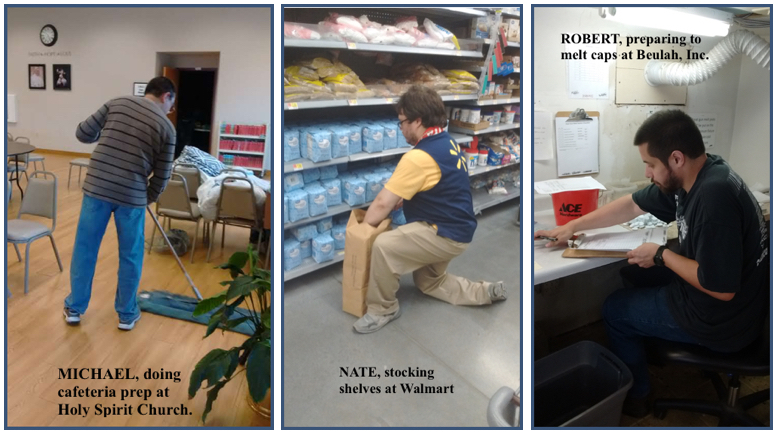 Globe Star is grateful for our business communities that work with us in placing and strengthening our workforce with the talents and dedication of individuals with intellectual and developmental disabilities. Follow-along and retention services are provided after an individual is employed. The type and length of services vary and are individualized for each person to best meet his or her needs.
Together, we succeed:
*Michael has been employed by Holy Spirit Church for more than eight years, feeling a strong sense of purpose and expanding his sense of community.
*NATE has been loving his work at Walmart for the past seven years, stocking shelves at two different locations.
*ROBERT has been with Beulah, Inc., for 15 years. His employer says, "Robert has become a valuable employee with Beulah and has far exceeded our expectations."
More about Quality of Work Life Program at GLOBE STAR:
Our program provides supported employment and vocational services to individuals with disabilities, assisting individuals in finding and maintaining community employment.
Quality of Work Life Services include pre-vocational and vocational services, and supported employment. The process begins with our Employment Specialist (ES), who meets with the individual to assess their job readiness and job search skills. Various assessment guides are used for this, as well as searches via the internet. After information is gathered and engaging dialogue with the individual, a resume and cover letter is created for presentation to potential employers. The process and writing  highlight the individual's strengths, and best meets their needs and interests.
Pre-vocational Services prepare an individual for paid or unpaid employment, but are not job-task oriented.
Vocational Services involve intensive job search, training, and developing natural supports to service and meet the community employment needs of individuals. Careful job matching establishes a placement where individualized, ongoing natural supports are designed to help ensure long-term employment success and career development.
Supported Employment Services consist of paid employment of persons for whom competitive employment at or above minimum wage is unlikely, and who, because of their disabilities, need intensive, on-going support to perform in the work setting.
CLICK HERE to view contact information and a downloadable brochure of a complete listing of work life services at Globe Star!
(with special thanks to QoWL Mentor, Vanessa Willis for contributing to this post)