An invitation to appreciate and participate in a community and collaborative effort with Globe Star's Quality of Work Life Program and Quality of Life Institute, Inc.                     
GLOBE STAR works directly with Individuals receiving Quality of Work Life Services who wish to participate in this program as an artist for Pico Books!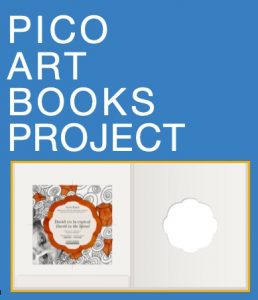 Globe Star is a collaborative partner for The Pico Art Books Project that is sponsored by Quality of Life Institute, Inc. as a fundraiser.
Globe Star offers the Pico Art Books opportunity to Individuals who show aesthetic interest in their surroundings, providing them greater exposure to concepts and mediums of art. An objective of the Pico Art Book Project for Individuals with Intellectual and Developmental Disabilities is to invite self-discovery through artistic expression.
For these Individuals, the Pico Art Book Project values each one's abilities and potentials, cultivating meaningful interpretation and narrative appreciation for each story. The shading and coloring tools used for enhancing the book illustrations are from Picogordo's coloring box of materials. This includes quality colored pencils that are intended for these books. Some of the artists add a water technique for a more vibrant effect.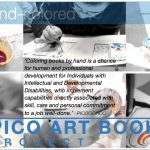 With funds raised from the Pico Art Book Project, the Institute re-invests in the purchase of books and materials used, provides training and support for the program, and compensates Individuals for their work that is shared with you!  Your support goes a long way and is very much appreciated!
Each page depicts an inked illustration and the bilingual telling of the story, with the writing done in two columns, one for the English words and the other for the Spanish translation.
With a suggested minimum donation of $99, you will receive a tax-exemption letter and be contacted by the Pico Art Books Program Director who will handle the delivery of your own, original Pico Art Book that has been hand-colored by an Individual in our community who enrolled in the Quality of Work Life Program at Globe Star. *If you are ready to participate, just CLICK the payment teapot below*
Quality of Life Institute, Inc., is a tax-exempt organization under Section 501(c)(3) of an Internal Revenue Code.
Click Here to view a complete list of the services and programs offered at Globe Star.