Be sure to check out the upcoming event at A ROSIE PLACE on December 10th.
Our friends at A Rosie Place, who serve families with children who are medically fragile, are welcoming the community of ALL families with ANY special needs children ages 15 and younger for their Holiday Festival OPEN HOUSE.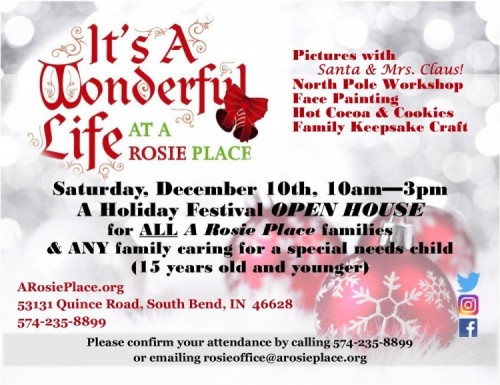 It's A Wonderful Life is the celebration theme. Santa & Mrs. Claus will be visiting for photos with the families by local photographer, and to oversee their North Pole Workshop.
Bring your family! Celebrate the season! Create memories with Santa and enjoy this community time with crafts, cookies, cocoa, and face painting. It's a Wonderful Life!
You can RSVP by calling 574-235-8899 or emailing rosieoffice@arosieplace.org.