Creating a Culture of Change is the theme for the 2016 Indiana Conference on Disability in December (5th – 6th).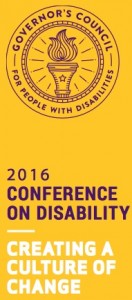 Congratulations to Globe Star Director Dr. Anthony M. McCrovitz (Tony) on being selected as a speaker by the Indiana Governor's Council for People with Disabilities. His talk has been scheduled for 3:00 pm on Tuesday, the 6th.
His presentation, Using a Gentle Teaching framework to develop Companionship and Community, discusses and examines "Navigating the Heart," a Gentle Teaching-based model that guides the steps and stages of crisis resolution, while valuing the diversity and dignity of each person.
In his own practice, Dr. McCrovitz successfully advocates for and works with Individuals with disabilities in overcoming cultural and commuunity barriers, collaborating with them in creating supports and solutions.
The Indiana Governor's Council is an independent state agency that facilitates change, advancing the independence, productivity and inclusion of people with disabilities in all aspects of society.
The well-attended event will take place at the Westin Hotel in downtown Indianapolis. Registration closed earlier this fall. A complete schedule for the conference can be viewed here.
Globe Star's participation in the conference is both an honor and a wonderful opportunity to represent the voice of Gentle Teaching, and its worldwide capacity for a culture of change in our systems of care for Individuals with Intellectual and Developmental disabilities.
Are you interested in a presentation and/or workshop (half or full-day) with Dr. Anthony M. McCrovitz? For more information or for booking for your group, school, agency or other organization for 2017, CONTACT US.