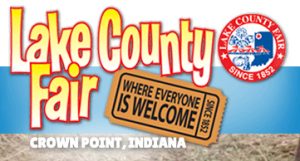 A group from the Globe Star community had some extra fun this week at the Lake County Fair in Crown Point, Indiana. The  "disABILITY"  day was organized by Kim Rivera Cruz, Quality of Community Life Social Worker Assistant.
She shared some photos and reflections with us about the day's event:
"We all had so much fun and all enjoyed spending time together! Our individuals were laughing left and right.I loved seeing their smiles! Let me tell you that our individuals are brave. I couldn't ride some of the rides because I am a chicken when it comes to that, but our individuals laughed at me and showed me how strong and brave they are. I loved the encouragement that I got from all of them. The community was gentle with our individuals and we all had an amazing time!"
Quality of Life services at Globe Star cultivate companionship with others, by mentoring a spirit of gentleness. With a foundation of companionship for relationship-building, we learn, together, how one can feel valued and experience meaning; how one can discover and come to know a sense of belonging and learn how to 'feel at home' in him/herself and within the community. 
Feeling connected cultivates one's sense of belonging. This is the primary building block for social-emotional awareness and growth, which is why developing companionship is so important.
Thank you, Kim, for organizing this fun day at the fair!