"Focus on Breathing and Relaxing Within the Environment" is our 4th and final topic this year in our webinar series: Re-Imagining Multi-Sensory Environments.
All are welcome to join us on Thursday, December 15, 2016 for this 45-minute teaching session, plus some time for discussion, with presenter Dr. Anthony M. McCrovitz, Executive Director of Globe Star, LLC and The Quality of Life Institute, Inc.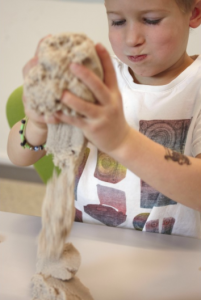 Breathing processes contribute to the construction (and collapse) of neuro-transmitting connections that enrich (or destroy) quality of life for individuals.
Current breathing and relaxing research offers much groundbreaking material for reconstructing therapeutic models that support human brain architecture and development, shaped by experiences throughout one's life.
An understanding of how this is all connected, and how the brain functions and processes these connections, is important to our work with others.
The training webinars will be presented at two different times: 11:00 a.m. and 5:00 p.m. EDT.
(Registration is free)
TOYS shown (relaxing bear and kinetic sand) can be found in the TFH USA catalog of sensory and special needs toys.