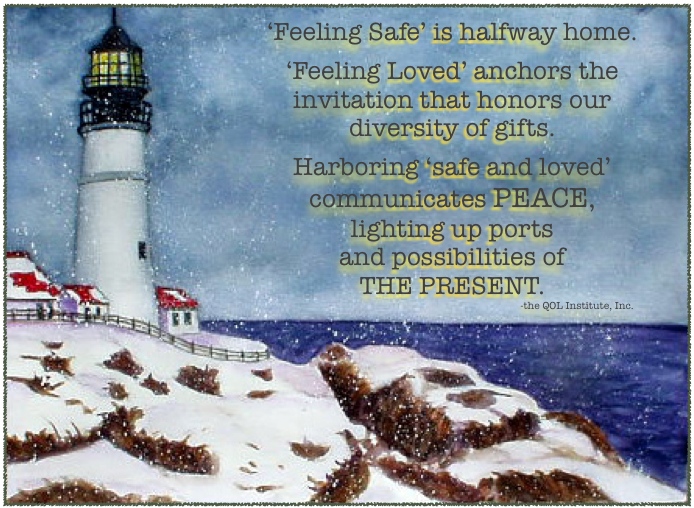 'Feeling engaged' trusts that we belong with others and can feel at home with others: safe and loved.
'Feeling loving' unwraps our gifts and lets them shine, making individual lives and the global community a gentle place and brighter world.
This season reflects every season of our lives that creates room in our hearts for receiving these gifts. We become receptive to these gifts through reciprocal responses that cultivate companionship and develop a sense of community.
It is about the space of compassion that precedes us, that we may 'enter into a spirit of interdependence and solidarity with others' (J.McGee, Feeling At Home, p29), recognizing the present moment—filled with a diversity of gifts that hold potential meaning for our encounters with one another and with all of Life.
Unconditional love, lighting a harbor for the heart's journey of gentleness, communicates PEACE and prepares the path we travel with a framework of Gentle Teaching, opening up our eyes, our hearts, our gifts.
NOTE: This message was originally posted in our Navigator Newsletter, Volume 8, Issue 3, written and published by the Quality of Life Institute, Inc.; Photo Credit: Estelle Mitchell – http://estellemitchell.com/lighthouse_winter.jpg