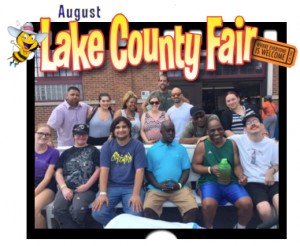 The Participation services that are offered through Globe Star's Quality of Community Life Program, coordinates events and celebrations with our Individuals, so they, too, can participate in community festivities and enjoy sharing companionship with others, while feeling safe and loved.
QoCL Servant Leader Kimberly Cardenas, and QoCL Navigator Mentor Chris Becerra, organized a wonderful day at the Lake County Fair this month for our caregivers and Individuals.
What a joyful day it was, with perfect "fair" weather!
"We all had such a great time! Everyone was happy, and enjoyed all the food and rides," said Kim.
Globe Star's Quality of Community Life (QoCL) Services reflect a framework of Gentle Teaching (safe, loved, loving, engaged) and are CARF-accredited.