This is Direct Support Professional Recognition Week!
National recognition is designated and promoted by the American Network of Community Options and Resources (ANCOR), whose mission is to enhance the lives of all people with disabilities who rely on long-term supports and services, by obtaining the resources to recruit, train and retain a highly qualified and sustainable workforce.
A special THANK YOU goes out this week of September 9th, to all of Globe Star's dedicated professionals who provide direct services and mentor a spirit of gentleness with others.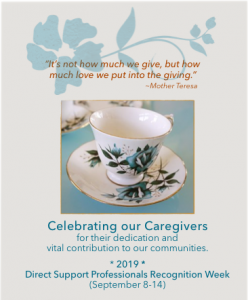 We are so grateful for their competence and presence and work in our community, cultivating companionship and a sense of community with others.
If you would like to learn more about working as or with a Direct Service Provider at Globe Star, or would like to join our circle of gratitude with a written message that can be shared with them, click on the Contact Form to let us know. We appreciate you!!