This webinar training series is produced by the Quality of Life Institute, Inc., and provided as an educational service to promote the potentials and possibilities for quality of life outcomes, when working with others in multi-sensory environments. Presentation of topics is approximately 45 minutes, with some additional time allowed for questions and discussion.
Join the conversation…inspiration…resources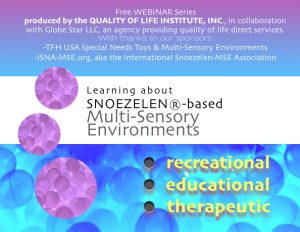 Using Assessment Tools to Accelerate One's Learning and Growth is the upcoming topic for our webinar series: Re-Imagining Multi-Sensory Environments, Designs, Uses, and Applications for Snoezelen®-based, Multi-Sensory Environments.
This exploration will illustrate a typical path of engagement with Snoezelen®-based MSE processes. Learn how to use initial assessment tools, and then how to apply what is learned to inviting one's engagement and developing their treatment plan.
We will discuss the supportive role of the therapist and how to cultivate and accelerate one's continued learning and growth, by doing things to expand the experience beyond the MSE room, that provide ongoing challenge for enriching one's experience.
A framework of Gentle Teaching supports an individual's plan with relationship-building and mentoring processes, for for continued discovery and learning beyond the multi-sensory room. Creating meaningful moments and cultivating social awareness is integral to the application of this framework. Sometimes it is challenging, especially during times when extrinsic worth is the focus. We will discuss how to shift this focus and how Gentle Teaching cultivates our own awareness and learning of who this other person is, and supporting their choices.
---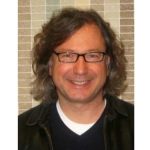 About the Presenter: Dr. Anthony (Tony) M. McCrovitz, LMHC, BCPC, IMH-E® (II), DAPA
Dr. McCrovitz is a  licensed mental health counselor, with clinical training and specialization in child development. He holds a doctorate in I/O Psychology from Walden University, and also one in Clinical Psychology from Adler Professional School of Psychology. He holds a Master of Pastoral Counseling from Loyola University of Chicago, and also a Master of Business Administration from Indiana Wesleyan University.
He has worked in various capacities in the social services field, including positions as a director, in-home intensive therapist, in-patient therapist in chronic hospital setting, and as a victim services advocate.  He specializes in working with individuals with physical, intellectual and developmental disabilities, and their family members.
From 1996 until this year, Dr. McCrovitz served as Executive Director of Globe Star, LLC, an agency providing direct services, 'mentoring a spirit of gentleness,' based on the philosophy of Gentle Teaching. Over the years, he developed a quality of life model of services, based on this philosophy. 
Dr. McCrovitz serves as Executive Director of Quality of Life Institute, Inc., and as president of the Indiana Professional Counseling Foundation (2018). In addition to teaching college and graduate courses for over a decade, his work as a board member and as a consultant and teacher is shared through two international associations, Gentle Teaching International and International Snoezelen-MSE Association of Multi-Sensory Environments.
---
Coming Up Next month, May 3rd: Hanne Holmer from Denmark will be returning as a gust presenter, on a topic that relates to supporting premature babies and their families: How to Consider and Implement the ideas of Sensory Stimulation and Snoezelen in a Neonatal Hospital Environment.