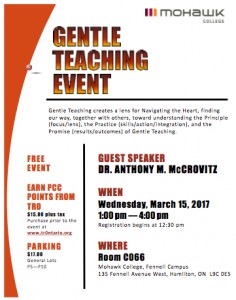 Ontario, Canada is Globe Star's destination for Wednesday, March 15, when Dr. Anthony M. McCrovitz will be visiting the Fennell Campus of "Future Ready" Mohawk College in Hamilton to talk about Gentle Teaching.
All are welcome to attend this free community event. Dr. McCrovitz will spend the afternoon presenting an introduction to Gentle Teaching and a workshop for participants, illustrating how a framework of safe, loved, loving and engaged (based on principles that cultivate value and meaning in relationship-building) constructs a viewfinder for navigating the way together, toward quality of life outcomes.

Discover how Elements of Companionship are the connecting threads of conversation that mend brokenness, create social space, and surge social-emotional awakening and awareness.

Learn how a Quality of Life model is put together with 'the glue' of Gentle Teaching.

Invest yourself in the value of building relationships and deepening the meaningfulness of your interactions with others.

Journey with us in growing a culture of gentleness, with the Principle (focus/lens), Practice (skills, action, integration), and Promise (results, outcomes) of Gentle Teaching.
Are you interested in learning more about Gentle Teaching and Quality of Life outcomes for your group or organization? Introductory webinars, presentations and workshops (half or full-day, or onsite consultation and integrative training) with Dr. Anthony M. McCrovitz can be arranged. For more information or for booking for your group, school, agency or other organization for 2017 – 2018, CONTACT US.