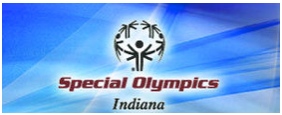 Each year the Globe Star community looks forward to the challenge and exciting opportunities of the Special Summer Olympic Games, and joined many others throughout the state in traveling to Terre Haute, Ind., to participate in the event on June 12-14.
First held in Indianapolis in 1969, this was the 46th annual event for the Summer Games that showcase athletic ability achieved by persons with intellectual disability.
Opening Ceremonies on Friday evening at the Rose-Hulman Center at Indiana State University Campus, promoted the ideals of acceptance and inclusion, celebrating the transformative power of the Special Olympics.
We applaud and celebrate all of our community members who participated in these games, bringing home medals and ribbons to top off their ability to feel safe and loved, to feel a sense of belonging, to be valued: T. J. Demmon, Steve Dowdle, Courtney Hendle, Nick Karris, Jutta Painter, and Andy Petrovich.
And we are thankful for the daily privilege we have at Globe Star of being present to interact with the individuals we serve. In valuing one another,  we develop companionship and build relationships that 'go for the gold' of feeling safe and loved.
In the relationships we build, it is the meaningful moments we create and facilitate that become recognized and affect one's sense of value and self-worth.
'Winning' is not about extraneous awards or rewards, but about the full, rewarding experience one learns he can achieve in life. This is the outcome that we celebrate while enjoying their medals and ribbons that truly are the icing on the cake!