Free Webinar Series: Reimagining and Facilitating Multi-Sensory Environments
Using Assessment Tools to Accelerate One's Learning and Growth 
is the upcoming topic for a free, educational webinar, on Thursday,
September 14, 2017 at 3:30 pm EDT.
Presentation of topics is approximately 45 minutes, with some additional time allowed for comments and questions. The sessions are a public service for our communities. All are welcome. Registration is free.
The presenter will identify a model for collaboration using a framework of Gentle Teaching, and illustrate a typical path of engagement with Snoezelen-Multi-sensory-Environment processes that go from the initial assessment to the treatment plan, to the role of the therapist, and then on to doing things outside of the "room." We will discuss the facilitator's opportunity to provide ongoing challenge for enriching the MSE experience by applying Snoezelen-MSE principles and varying aspects that produce effective processes, using a collaborate, theoretical framework.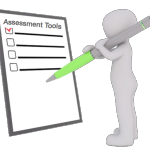 Four pillars (life-lessons) comprise a framework of Gentle Teaching: safe, loved, loving, and engaged. Application of this framework contours the relationship lens, cultivating the learning processes with a deeper understanding and experiencing of healthy, social/emotional development.
About the Presenter: Dr. Anthony M. McCrovitz, LMHC, BCPC, IMH-E® (II), DAPA, Executive Director of the Quality of Life Institute, Inc., co-founder of Globe Star, serves on the board of the International Snoezelen-MSE Association, and teaches in the Department of Behavioral and Social Sciences at the University of Saint Francis.
Dr. McCrovitz develops teaching materials and training programs to support professionals who provide direct services. In 2016, he launched this webinar instructional series, to help in creating worldwide access to learning about the Snoezelen-MSE approach, and exploring the therapist's role in multi-sensory environments.