In this issue, our director writes:
Learning about our differences through the art of storytelling, provides value and an unconditional acceptance of our differences, to be respected and honored. It is through the processes of listening and learning, that these stories are able to unfold through the social environment." – Dr. Anthony M. McCrovitz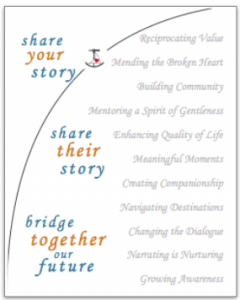 The basic elements of storytelling become instrumental for developing narrative with an Individual, about what has value and meaning for their quality of life. The creating of narrative validates and illustrates one's present journey.
The sharing of one's story immerses daily living into long-term quality of life. By caring for a person's story through the collaborative work of weaving value with meaning, we create waves for the future.