Free Webinar Series: Reimagining and Facilitating Multi-Sensory Environments
Join the conversation…inspiration…resources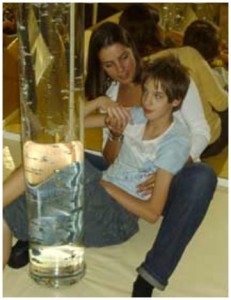 Creating Multi-Sensory Environments, discussing the importance of sensory experience in human development,  and the beginnings of "SNOEZELEN" will be included in the topic for our continuing, educational webinar series on Friday, August 4, 2017 at 12:00 noon EDT.
Presentation of topics is approximately 45 minutes, with some additional time allowed for discussion. The sessions are a public service for our communities. All are welcome. Registration is free and easy.
The back story about Snoezelen's philosophy, founders and fascinating beginnings will be told, and then we will discuss how to organize and use a permanent or mobile multi-sensory space for a variety of diagnosis, reflecting on past Snoezelen-MSE research and the importance of sensory experience in human development.
About the Presenter: Dr. Anthony M. McCrovitz, LMHC, BCPC, IMH-E® (II), DAPA, Executive Director of the Quality of Life Institute, Inc., serves on the board of the International Snoezelen-MSE Association.
Dr. McCrovitz develops teaching materials and training programs to support professionals who provide direct services. In 2016, he launched this monthly webinar instructional series, to help in giving worldwide access to learning about the Snoezelen approach, and exploring the therapist's role in multi-sensory environments.
These materials and introduction to training programs have been offered to his students in related fields of psychology and social sciences, and will be a resource for a new teaching position he begins this fall, at the University of Saint Francis.
He continues to work closely with senior Snoezelen advisor at Hartenberg Centre in the Netherlands, Ad Verheul, and the president of International Snoezelen Association (ISNA- MSE) in Denmark, Maurits Eijgendaal. Together, they have developed Snoezelen-MSE training and workshops that were presented in the U.S.
Last month, Dr. McCrovitz was a speaker for the annual International Snoezelen Conference in Quebec, and continues to collaborate with Snoezelen leadership in offering topics relating to Snoezelen-MSE, and inspiring a reimagination and facilitation for multi-sensory environments.