Direct Support Professional Recognition Week is part of the American Network of Community Options and Resources (ANCOR) National Advocacy Campaign, whose mission is to enhance the lives of all people with disabilities who rely on long-term supports and services, by obtaining the resources to recruit, train and retain a highly qualified and sustainable workforce.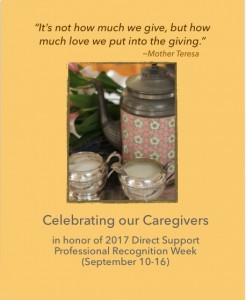 A special THANK YOU goes out this week to all of Globe Star's caregivers, the professionals who provide direct services by mentoring a spirit of gentleness. We are so grateful for all of the warmth they bring to our community and the gentle care they cultivate through their presence, developing companionship  and a sense of community with others.
You are invited to join our circle of appreciation and celebration this week, using your words, your wallet, or simply your continued support for the Globe Star community, valuing out direct support professionals!
Donations are always welcome and also tax deductible. Funding supports the education, livelihood, and overall quality of life enrichment of our Direct Support Professionals.