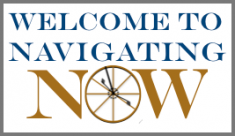 Welcome to Navigating NOW, an overview of upcoming events, training and workshop schedules,  opportunities ad resources.
Our primary goal and mission, mentoring a spirit of gentleness, focuses on improving quality of life for Individuals with Intellectual and Developmental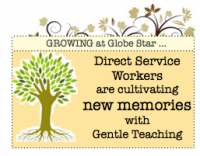 Disabilities.
A daily commitment to excellence, and adherence to professional standards that are aligned with a framework of Gentle Teaching, guide us in navigating the heart's capacity to love and to serve.
Our secondary goal is to share the non-violent philosophy of Gentle Teaching and a Quality of Life model with others, locally and globally, who support or want to learn more about the applications of Gentle Teaching, and how to mentor a spirit of gentleness as a way of being present and interacting positively with others.
Do you need a mentor for your counseling practice? Globe Star "circle leadership" offers training, consultation and collaboration.
We work with the Quality of Life Institute, Inc., to develop presentations, programs and materials that support training, coaching and the facilitating of workshops that benefit professional development and the delivery of services.
You are invited to grow with us, celebrate with us, learn with us! We hope you will find this page informative and inspiring, and that you will consider joining us in 'mentoring a spirit of gentleness.'
---
*** FREE MSE Webinar Series: REGISTER HERE
---
  [ENDED]*** FREE MSE Webinar Series:
---
[ENDED] MSE Series 2017_October 23 at 1:00 pm EST  
October 23 Webinar: Snoezelen-MSE challenges, a perspective from an OT practitioner in Denmark
---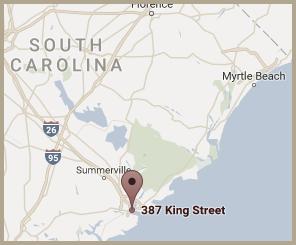 SEPT 27 in Charleston, SC – Dr. Anthony McCrovitz is speaking at Community Options, Inc. 11th Annual iMatter Conference on Supported Employment. The theme of the conference is "A Meaningful Life." Community Options, Inc. is a national agency that has been supporting people with disabilities since 1989.
---
Upcoming Events and Training (opportunities for learning and growing together, and celebrating community)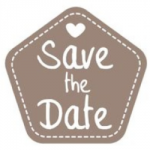 SEPT 19, 20 & 21 in Vancouver, Canada, Gentle Teaching International Conference 2017.


All are welcome to attend. LEARN MORE.
---
MSE Series 2017_August 17 at 2:30 pm EST     [ENDED]
TOPIC:  Self-Study Recording & Reflecting – Learn how to observe recorded interactions to identify & evaluate the four essential elements of relationship-building within Snoezelen-MSE: the structure, challenge, engagement, and nurturing of the processes.
PRESENTER: Dr. Anthony M.McCrovitz
---
MSE Series 2017_August 4 at 12:00 N  EST   [ENDED]
TOPIC: Creating mobile multi-sensory spaces and the back story of Snoezelen-MSE– Highlights about the philosophy, founders and fascinating beginnings of Snoezelen-MS; discussion about the process of creating a permanent or mobile multi-sensory space for a variety of diagnosis; reflections on past Snoezelen-MSE research and the importance of sensory experience in human development.
PRESENTER: Dr. Anthony M.McCrovitz
---
MSE Series 2017_June 22 at 11:00 am EST     [ENDED]
TOPIC: COLORS, discussing the energetic value & meanings of colors; how color influences observations and experiences of inner and outer worlds, and their useful applications.
PRESENTER: Maurits Eijgendaal, President of International Snoezelen Association (ISNA.org)
---
MSE Series 2017_May 18 at 11:00 am EST [ENDED]
TOPIC: Autism, exploring the sensory channels that increase the social-emotional development of children with autism.
PRESENTER: Janice Ryan, OTD, OTR/L, University of Tennessee at Chattanooga
---
JUN 15 & 16 in Quebec, Canada – in collaboration with ISNA-MSE, International Francophone Conference,  Cégep de Granby, 235 rue St-Jacques,  Granby (Québec, CANADA). [ENDED]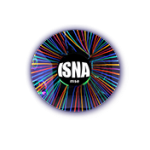 "On the Snoezelen Approach" is the theme of this International Conference in June.
Dr. Anthony M. McCrovitz will present: Exploring the Therapist's Role in a Multi-Sensory Environment: a checklist of tools and supports for the mentor who is implementing a Snoezelen approach.
A Snoezelen approach being successfully implemented by the therapist, moves the relationship toward possibilities aligned with the Individual's social-emotional development and cultivates authentic self-determination.
---
MAY 31, Jun 1 & 2, 2017 -annual 3-day Gentle Teaching training and workshop at the SHARE Foundation. All are welcome to attend. [ENDED]
"Acts of Gentleness" is this year's theme. We will look at the social vision of Gentle Teaching as an invitation to act justly, and discuss how we can accept the invitation into our own practice, by mentoring a spirit of gentleness and building relationships with a framework of Gentle Teaching.
Registration ($195) includes continental breakfast, lunch and snacks for each day, plus pre-printed materials that will be distributed. Some assistance is being offered, as needed, so that everyone who would like to join us has the best opportunity to do so.
---
MAY 24, 25, 26, 2017 – 'Spring Training' Days for learning to make the most of Snoezelen-Multi-Sensory Environments.  being planned for this month; Attend one, two or all three sessions. Each day will offer a different focus on the Snoezelen-MSE approach: Day 1: Back to Basics; Day 2: advanced implementation with practicum & theory; Day 3: Practicum.
CLICK HERE to view the Schedule and Registration information.
---
MAR 15, 2017 – Ontario, Canada is Globe Star's destination for Wednesday, March 15, when Dr. Anthony M. McCrovitz will be visiting the Fennell Campus of "Future Ready" Mohawk College in Hamilton to talk about Gentle Teaching. Read More Here.
All are welcome to attend this free community event.
---
MAR 10 2017 – Teacher Training Workshop at Chesterton Montessori School. Dr. McCrovitz is the guest speaker for teachers of Chesterton Montessori School, presenting an afternoon workshop on the topic of multi-sensory environments.

The goal for this afternoon  is to equip teachers with tools and resources for some of the simple but diverse applications that utilize multi-sensory materials and create a "Snoezelen-MSE" environment. These applications can be used for therapeutic, recreational, or educational purposes. Dr. McCrovitz will illustrate how teachers can introduce multi-sensory materials into the classroom, or expand with existing materials, focusing on quality of life enrichment and outcomes.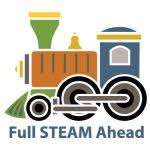 ---
APRIL 22, 2017 –  "Full Steam Ahead" is the theme for the annual Purdue North Central (PNC) Early childhood Conference, focusing on "the educational STEAM disciplines of science, technology, engineering, arts and mathematics. It features a full day of activities intended for early childhood professionals, caregivers, child development experts, parents, students and others interested in the education and development of young children."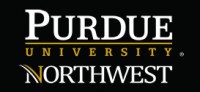 Dr. Anthony M. McCrovitz will present "Working Within Multi-Sensory Environments, Using Mentoring Basics and Assessment Tools to Accelerate Social-Emotional Learning and Growth." 
Connecting one's sense of self with a perception of others relies on social-emotional awareness and development. Applying the mentoring basics of a Gentle Teaching framework to therapeutic, educational or recreational processes within multi-sensory environments, supports this development and also guides and supports the mentor's role. Create opportunities that best align with and challenge a child's social-emotional development; Learn how assessment tools can indicate the primed areas of potential and possibility for quality focus and planning, accelerate the social-emotional learning processes, and support the collaborative goals.
MAY 24, 25, 26, 2017 – 'Spring Training' Days for learning to make the most of Snoezelen-Multi-Sensory Environments.  being planned for this month; Attend one, two or all three sessions. Each day will offer a different focus on the Snoezelen-MSE approach: Day 1: Back to Basics; Day 2: advanced implementation with practicum & theory; Day 3: Practicum.
Employment Opportunities  – Is Caregiving work for you? Visiting our informational page about employment opportunities and viewing 'A Day in the Life of a Caregiver,' can help you decide if you are ready to complete an application.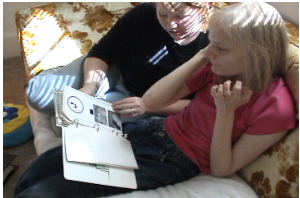 Internship Opportunities – Globe Star offers internships through its Counseling Center, committed to providing quality training to students in social work, counseling, PsyD programs and other mental health related fields. You can learn more about our internship program HERE.
Sponsorship Opportunities – are available for Globe Star events that include the annual, Pumpkin Golf Classic, and ongoing teaching and training workshops for a Gentle Teaching-based, quality of life model of caregiving, and (new in 2016) Snoezelen (multi-sensory) therapy. The training workshops are typically 3-day events, and require the rental of a venue, catering, hosting of speakers, printing of materials, etc. If you would like to help us in sponsoring an event, please contact us. Benefits to you:  our gratitude; your corporate logo on our website with a link back to your website; credited sponsorship acknowledged at opening reception of events that you help to sponsor, and your logo shared on all digital presentations at the event.
~ Connecting with Gentle Teaching International and also event information about their annual conference. All are welcome to attend.
~ Connecting with Snoezelen International and event information about their worldwide conferences.
~ Source for Snoezelen/Multi-Sensory Environment Equipment & Designs
~ Indiana Counseling Association (ICA)
~ Purdue North Central Center for Early Learning
~ American Association on Intellectual and Developmental Disabilities (AAIDD)
~ American People Supporting Employment First (APSE)  Through advocacy and education, APSE advances employment and self-sufficiency for all people with disabilities.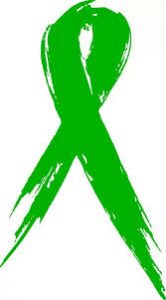 ~ Cerebral Palsy guidance provides vital guidance and assistance to parents of a child with cerebral palsy. A range of therapies, including physical therapy, surgery, and adaptive devices, among many others, help children improve symptoms of cerebral palsy, a condition caused by brain damage or malformation. It is the most common physical disability of childhood. It is not progressive, but there is no known cure. Learn More.
~ TASH is an international leader in disability advocacy, striving for fully inclusive schools, workplaces, and communities.
~ Indiana Association of Rehabilitation Facilities (INARF)
~ The SHARE Foundation is a not-for-profit Christian organization serving the residential, vocational, and social needs of mentally challenged or other-abled adults. Their 185-acre community, Sharing Meadows, provides a tranquil place for other-abled adults to live, work, and relax in peace and dignity.
~ A Rosie Place is a licensed specialty hospital in the state of Indiana dedicated exclusively to serving children who are medically fragile. Their nature-inspired home provides respite, and more, for families.
~ Human Systems Occupational Therapy in Chattanooga, Tennessee, with Dr. Janice Ryan, is associated with American Association of Multisensory Environments (AAMSE). Dr. Ryan is dedicated to promoting the social vision and philosophy of Gentle Teaching in healthcare, caregiving, and Quality of Life services for people with developmental and intellectual challenges.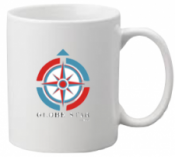 ~ The NAVIGATOR Newsletter Collection is just for you!  Read more about working with a quality of life model, and our journeying with Gentle Teaching over the years, as we share our stories that build companionship and celebrate community.