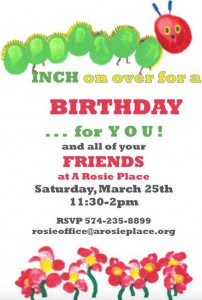 Our friends at A Rosie Place in South Bend, who serve families with children who are medically fragile, are hosting a birthday party to celebrate all of the Rosie kids!
A Rosie Place supports families with who are caring for medically fragile children, and they are all invited to attend this first quarterly H.A.V.E.N. event of the year on Saturday, March 25th, from 11:30 – 2:00 pm. Please RSVP if interested.
A BIRTHDAY is the theme for this family affair that will be full of fun and shared memories!